How to Become an Aged Care Worker in Australia in 2023
The rewarding profession of aged care worker is growing rapidly in the Australian health sector. In 2023, the demand will increase for compassionate individuals who want to serve their lives in the service of senior citizens. You can bring about changes in other people's lives by becoming a care worker. In this profession, compassion and empathy meet employment.
 This guide will explore the benefits and provide a step-by-step guide to becoming an aged care worker in Australia, along with other related aspects.
What is an ageing care worker?
When people grow old, they require assistance with day-to-day tasks. A professional who helps elderly individuals with their daily routine tasks is called an aged care worker. The responsibilities of carers include a variety of tasks such as cooking, cleaning, dressing, and monitoring the health conditions of elderly people.
 They are responsible for the emotional and physical well-being of senior individuals. They make their lives better by fostering supportive conditions and improving standards. As a care worker, you will be working in various work settings such as aged care facilities, home care and community health services.
What Are Benefits Of Becoming Aged Care Worker In Australia?
Choosing a career as an elderly care worker not only enables you to improve other's lives but also offers you promising career opportunities. It's a win-win situation!
The demand for an aged care worker is expected to grow by 28% by 2026, making it one of the most stable career choices. You may raise a question in your mind: What is the salary of a carer in Australia? The good news for you is that carers receive competitive salaries. As you gain experience and skills in the field, your salary can grow faster than the grass in any fertile land. 
Plus, there are often opportunities for career progression and further specialisation, such as as a care coordinator or senior carer. The following table shows the salary of a caregiver in Australia:
Experience Level

 

Annual Salary

 

Hourly Rate

 

Entry-level 

$70,005 

$35.89 

Average 

$87,288 

$44.76 

Experienced 

Up to $130,000 

Up to $66.67 
You can also develop soft skills such as problem-solving, communication, and adaptability while working as an elderly care worker. The most amazing benefit is permanent residency, which can change your mindset drastically regarding choosing caregiver as a profession. 
Who does not want to enjoy the perks of an Australian permanent resident? If you have been living in Australia, you might want to immerse yourself in this culturally enriched society by attaining permanent resident status. The occupation of a caregiver is on the medium- and long-term strategic skill list (MLTSSL). If you fulfil other requirements, you can apply for SC 189 or 190. Thus, this profession can be a stepping stone to your 189 or 190 visa grant.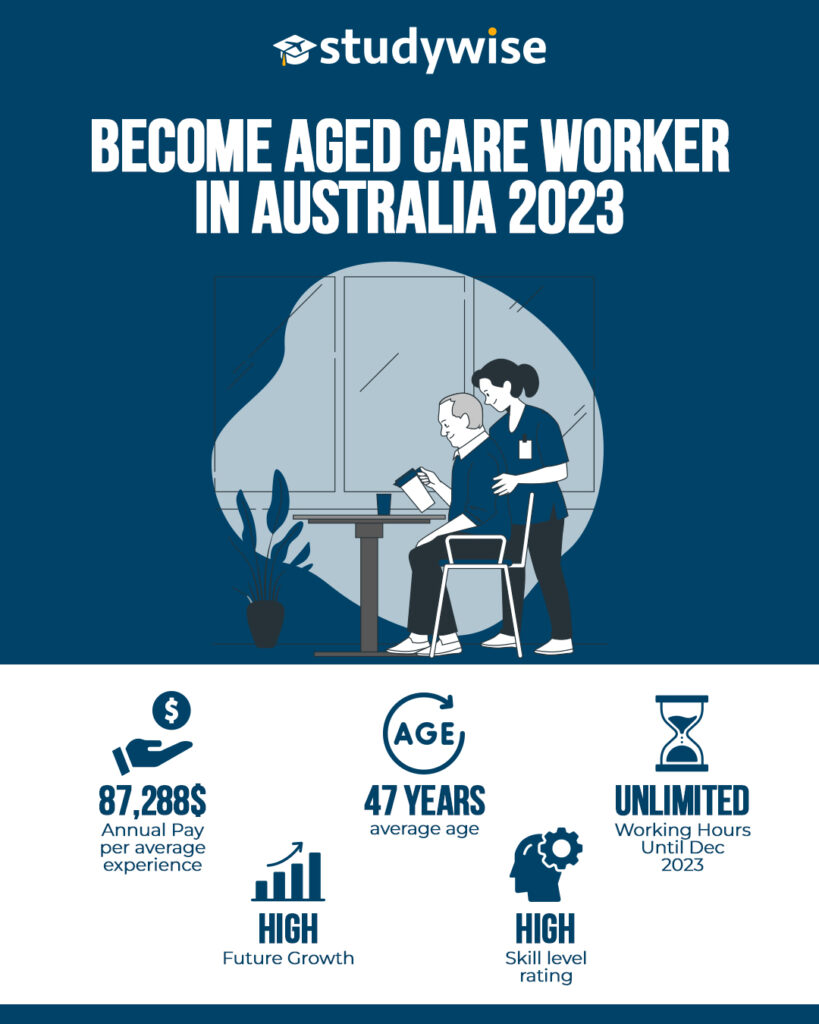 Which Skills Are Required To Become An Aged Care Worker?
If you want to excel in this field, you must possess certain skills and expertise. This includes both soft and technical skills. Here are some essential skills that one needs to ace their career as a giver:
You should be able to empathise with elderly people.

Patience is key when dealing with senior citizens.

An ageing care worker should have effective communication skills. They should be able to listen to the needs of older people and convey the information in an effective way.

Problem-solving skills to handle emergency situations

Information about first aid

Have time management skills

Observational skills to notice any change in behaviour

Physically fit to perform their tasks in an efficient manner.

Adaptability to handle different situations

Emotional stability

Care planning skills
For How Much Hours Care Givers Can Work?
A carer can work up to 43 hours per week. However, the Australian government announced a reform regarding the working hours of an average aged care worker in 2023. Students who are in Australia before May and work in this occupation can work for unlimited hours until December 2023. There is no longer a working-hour restriction on them. This measure was taken to address the skill shortage in this field.
The Process to Become an Aged Care Worker:
You have learned about different aspects related to caregivers. Therefore, you may be curious about learning the key steps to becoming a caregiver in Australia.
Step 1: The first step in your journey is to attain qualifications in individual support. The minimum condition to become an aged care worker is to obtain Certificate III in Individual Support (CHC33015), which is offered by various TAFE or RTO institutions. After getting Certificate III, you become eligible for Certificate IV in ageing support (CHC43015). A Certificate IV will give you an edge over others in your field. You can also do these courses online or as part of a traineeship.
Step 2: Fulfil other following requirements:
Obtaining a first aid certificate is a mandatory requirement for working in aged care, as you will need to provide basic medical assistance to elderly clients. A first aid certificate is available from a number of organisations, including the Red Cross and St. John Ambulance.

An aged care vaccine certificate is also a new requirement that was introduced in 2021 to protect the elderly from COVID-19 and other infectious diseases. 

Provide a national police certificate. This is a background check that shows your criminal history and any charges or convictions you may have. You need to have a clear record to work in aged care, as you will be dealing with vulnerable people. You can get a National Police Certificate online at your local police station.

The state and territories of Austria may have other individual conditions to become an aged care worker. You also need to fulfil these requirements.
Step 3: Gain some work experience for practical placement. You need to complete practical placement hours as part of the assessment of your qualification. These hours vary on the basis of certificates:
Qualification

 

Practical Experience (Hours)

 

Certificate III in Individual Support 

120 

Certificate IV in Ageing Support 

240 
The practical work will help you develop your skills and knowledge, as well as demonstrate your passion and commitment to working with the elderly. You can find volunteer positions at senior care facilities or home agencies.
Step 4: Start applying for carer jobs after you fulfil all the requirements. You can find jobs at community organisations, retirement houses, or home support agencies.
How Can StudyWise Assist You?
What are you waiting for? Start your career as an aged care worker under the guidance of our expert consultants. We will support you throughout the process by guiding you through accredited institutions, visa applications, and the skill assessment process. Our experienced educational consultants at istudywise will also help you select the certificate that aligns best with your career goals. Don't hesitate to reach out to us. Benefit from our free consultations today.
FAQs
Q1: Do I need any healthcare background to work as an aged care worker?
No, you don't need any healthcare background. However, you need to complete the relevant qualifications and get experience through placements.
Q2: Is it compulsory for all caregivers to have a first aid certificate?
Yes, obtaining a first aid certificate is necessary for employment in the elderly care industry. It ensures that you possess crucial expertise to provide basic medical assistance to elderly clients.
Q3: Can I pursue a career as an elderly care worker in Australia if I am an international student?
Yes, if you are an international student who is in Australia before May and working in this occupation, you can work unlimited hours until December 2023, as per the government's reform in 2023. However, you still need to fulfil other requisites including acquiring the necessary qualifications and certificates.
Q4: Is there a high demand for aged care workers in Australia?
Yes, Australia needs to increase its direct aged-care workforce by at least 110,000 workers in the next decade to meet the growing demand for aged-care services, according to a new report by CEDA.