If you are currently looking for opportunities to study in Australia, by now, you may know that you will have to know the English language and meet its requirements. Students need to take the English language tests for an Australian study visa to get admission in the course of their interest. 
To get an Australian visa, you'll have to prove your English Language abilities to the Department of Home Affairs. They will conduct your test via a third party. All students are required to pass these tests within the acceptable criteria.
A majority of visa have a minimum English language requisite. The Australian study visa allows eligible foreign students to enter the country for study‌. It is valid for up to 5 years.
Who is excluded from taking English language tests for an Australian study visa? 
Some students don't have to prove their English proficiency and can get a visa taking no English language tests. These are:
Foreign Affairs or Defence sponsored students
Citizens and passport holders of the UK, USA, Canada, New Zealand or the Republic of Ireland.
Students who have completed a minimum of 5 years of study in Australia, New Zealand, Canada, South Africa or the Republic of Ireland.
Students enrolled full time in school studies as a principal course, postgraduate work, or a standalone ELICOS programme.
All other students need to prove their English proficiency and take English language tests for an Australian study visa.
Acceptable English Language tests
Until 2014, IELTS was the only test required for immigration‌. Since then, a few new tests have made their way on the list of acceptable English language tests for an Australian study visa. Some tests that are recognized by Australian authorities and students needs to pass them within the acceptable criteria are:
IELTS: Academic
PTE: Academic
TOEFL ibT
Cambridge: Advanced (CAE)
These tests are significant in your application process. A high score English test will increase the chances of your application acceptance.
We give the detail of these tests and their minimum score requirements below:
IELTS: Academic
International English Language System (IELTS) is trusted worldwide for its credibility and fairness to all test holders, irrespective of their nationality, cultural background, special needs, or gender. IELTS is the most popular among the acceptable English language tests for an Australian study visa.
Over 10,000 organizations, including educational institutions, employers, professional associations, and governments in almost 140 countries around the globe, recognize the IELTS test. The general IELTS test is for immigration. Meanwhile, the Academic IELTS is required to study at Australian universities. The test costs almost 395 AUD.
IELTS provides a valid assessment of four language skills: writing, listening, reading, and speaking.
 The test assesses language skills instead of vast knowledge.
 The questions asked are easy and general and most of the students with good English language skills can answer them. 
The test is focused on finding practical communication skills. It includes a one-on-one and a face-to-face speaking test. 
The minimum score required in your IELTS for an Australian student visa is 5.5 band in each of the four modules and an overall test score of 6.0. For postgraduate students, the minimum test score for acceptance is 6.5 and for undergraduate students, it is 6.0. Students with a score less than 6.0 have relatively low chances of getting their study visas in Australia. 
PTE: Academic
Pearson Test of English Academic measures your capabilities in English speaking, writing, listening, and reading in a single test. The test is being recognized by thousands of universities worldwide, including Australia, UK, US, and Canada.
 PTE is a computer-based English test and evaluates aspects via a computer over a 3 hour test session. There are three versions of the test: the PTE General, Academic and young learners. If you're taking the test for taking admission to a university, ‌take PTE Academic. The test costs almost 385 AUD. 
The test format comprises three parts:
Part 1: English speaking and writing
Part 2: English reading
Part 3: English listening
This computer-based exam focuses on daily real-life English used in academic institutions. It is a newer test system than IELTS and TOEFL but is steadily catching up with others. The test results are provided within 5 days, which is less than both IELTS and TOEFL. It also gives more detailed results. 
The test score range is between 10-90. For vocational proficiency level, the minimum score in each module should be 36, for competent proficiency the minimum score level should be 50 and for superior level proficiency, the minimum accepted score should be 79 in each module.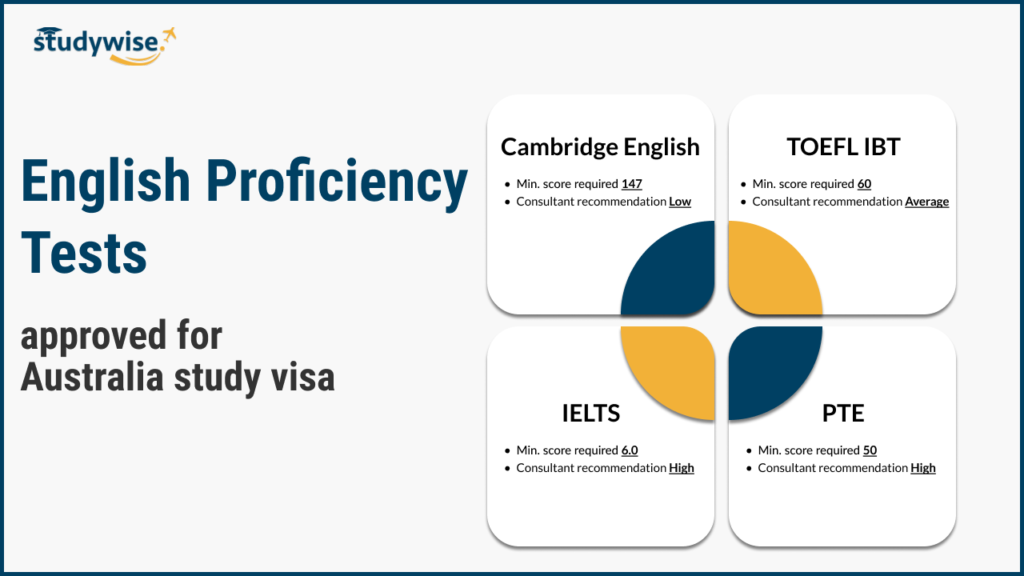 TOEFL ibT: 
Test of English as a Foreign Language internet-based test (TOEFL ibT) measures your ability to read, write, speak and listen to the English language as used in the classroom, universities, or educational institutions. This test helps you stand out confidently in front of the universities, giving you an advantage over others. This is the reason that over 11000 universities and institutions accept this test in over 160 countries in the world.
You are provided with the choice of where to take the TOEFL ibT test. You can take the test at a test center or at the safety of your home. Test centers are available around the world with enhanced safety and health regulations. In some countries, the paper edition test is also available. TOEFL ibT is credible and one of the widely acceptable English language tests for an Australian study visa.
The minimum TOEFL ibT score required for getting a study visa in Australia is an overall score of 60-90. The test costs almost 275 AUD.
Cambridge English: Advanced (CAE)
On the list of acceptable English language tests for Australian study visa, Cambridge English: Advanced (CAE) is an in depth, high-level qualification test that shows the language skills of a student as required by universities. Preparing for the test helps students to develop better communication skills in English-speaking countries. Candidates who take a C1 exams are relatively more flexible and confident and have better opportunities to flourish in educational institutions.
Over 9,000 educational institutions, businesses and government departments around the world accept the Cambridge English: Advanced (CAE) test. 
Australia's Department of Home Affairs accepts all C1 advanced scores of 147 and above. The exam taken should be up to two years before the candidate's application. The test cost varies depending on the decision of the test centers conducting the tests. However, an average price is almost 165-195 AUD.
Also Read: 5 Reasons to choose Australia as a Study Abroad Destination
Importance of the Tests
These tests can improve a student's communication skills and make them more confident when conversing with their peers. It improves their personality and raises the sense of self-worth.
Learning a foreign language can increase your exposure to the outside world and versatility. It is a criterion to pass these tests within acceptable scores to secure your study visa. 
If you fail a test, don't feel sad or dejected about it. You can always take the test again with better preparation. The only drawback is the cost of taking the test.
There are free to practice tests available online and you can take them to prepare yourself for the actual test. In this way, you will consistently know your progress and improve preparation before you take the actual test.
Services provided by StudyWise
If you need further guidance about the Acceptable English Language tests for an Australian study visa, you can always ask for help from our professionals at StudyWise who will guide you throughout the application process. We will ‌provide you the guidance and help you need for better opportunities towards a hassle free journey to start your study in Australia. Download the StudyWise app to find the courses best for you.