Australia is the most popular destination among international students after the USA and the UK. Every year 300, 000 students get study visas to study in Australia and the ratio is increasing every year. The credit goes to the advanced and employable courses offered by the Australian institutes and to the friendly visa policy.
Before we dive into the top courses to study in Australia, let's answer some questions everybody has when considering Australia as a study destination.
What is the QS Ranking of Top Australian Institutes?
The Australian education system has a great reputation worldwide. Don't forget the ranking of the universities when you search for employable courses to study in Australia. Seven Australian institutes are featured in the QS ranking of top 100 universities while 30 institutes made their place among the top 800 world institutes.
Australian National University (ANU), University of Sydney, University of Melbourne, University of New South Wales (UNSW), and University of Queensland (UQ) are the top five Australian universities with the global ranking of 31, 40, 41, 44, and 46 respectively.
Universities in Australia are known for their student-friendly environments and emphasis on practical knowledge, making them among the top universities in the world and the first choice of international students interested in studying abroad.
How many international students study in Australia?
Graduates from Australian institutes have high demand in all sectors. It lures international students from all over the world especially Asian students. Work permit and permanent residency after studies are major benefits that make Pakistani and Indian students prefer Australia over any other country.
According to the Australian Government Department of Education, the total number of international students in Australia in 2021 is 568, 746. The ratio is 17% higher than the previous year. Students from Asian countries are at the top of the graph and that indicates their inclination towards Australian institutes.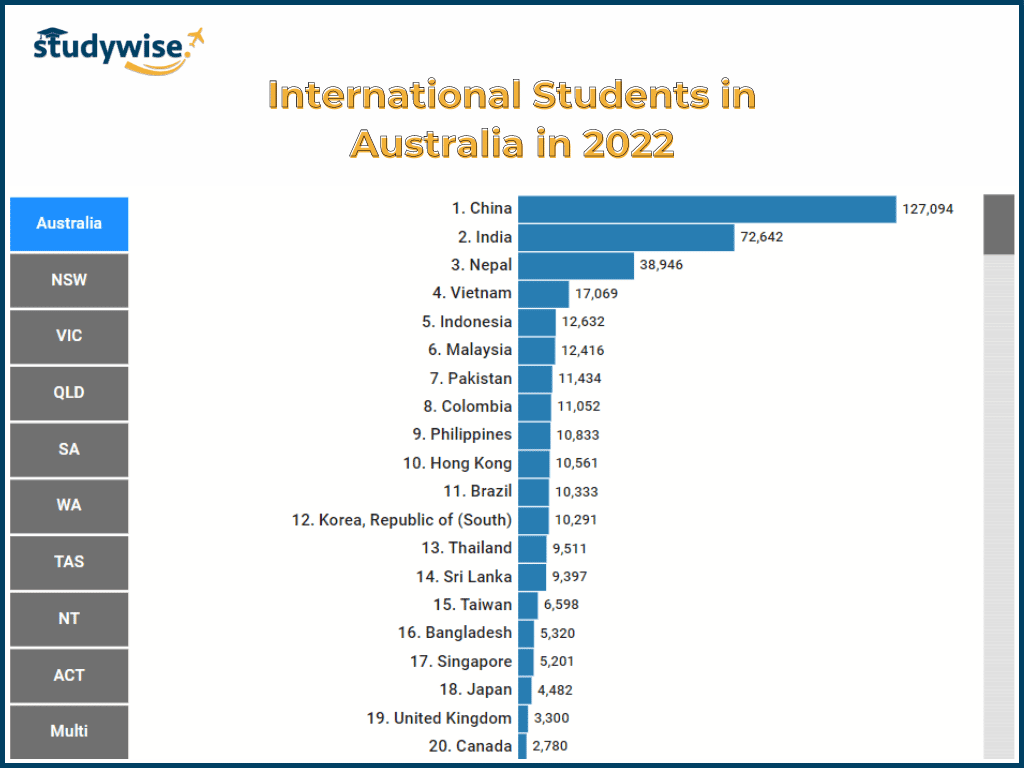 Image credit: dese.gov.au
Can I Work In Australia while Studying?
Yes, Australia allows the students to work 40-hours per fortnight. Recently, the Australian Government has temporarily relaxed the working hours by allowing students to work full time if it's not affecting their studies. They can easily earn AUD15-AUD25 per hour and enjoy their financial freedom. Choosing employable courses to study in Australia increases the chances of getting a job to your relevant field.
Best Courses to Study in Australia for Career and Post-Study Prospects
If you are interested to get a permanent residency in Australia, then choose these high demanding courses to secure a job after getting your degree or diploma.
These courses are among the list of Skill Shortage Occupation released by the Australian Department of Home Affairs in 2018. Australian Government also made changes in visa regulations including the scrapping of 457 visa category. It allows skilled persons to come and work in Australia along with their immediate family.
Engineering
Australia is not just a popular study destination but also attracts millions of tourists every year. It's a choice of multinational companies and a hub of different industries. The ongoing economic development has increased the demand for civil and construction engineers.
The constructional development has also opened opportunities for electrical and mechanical engineers in the industrial and transportation sector. Studying chemical engineering in Australia can help you kickstart your career in the best Australian companies.
Information Technology (IT)
IT experts and software engineers always have high demand all over the world. After Covid19, career and growth opportunities increased several folds for IT experts. Software engineering, machine learning, artificial intelligence, and database are some courses that can pave your path towards a permanent residency and an ideal job. Tech talent can apply to get following jobs after studying IT courses in Australia:
Associate software engineers
Database management
Cybersecurity
App development
ICT Support technician
Designing and website development
Management and Commerce
The business-friendly policies of Australia have encouraged business companies to start operations in Australia. Local and international companies are always on the lookout for talent. A degree in management or commerce in Australia increases your chances of getting a great job.
Australian institutes offer both theoretical and practical knowledge to students and soon after getting their degrees, they can apply for the following job posts.
Sales and marketing
Human resource
Digital marketing and storekeeping
Accounting and finance
Restaurant managers
Auditing
Nursing
Nursing is one of the best courses to study in Australia. Studying nursing in Australia offers great career prospects in the health sector. Australian Government is planning to employ 1.9 million professionals in the health sector by 2024.
University of Notre Dame Australia, University of Victoria, and Melbourne School of Health Sciences are the top-notch nursing institutes After graduation, you will be equipped with the essential skills and knowledge to work as an enrolled nurse across a variety of clinical settings.
You can enroll in 2-year and 3-years nursing courses and apply for the post of nursing assistant in any hospital.
Food and Hospitality
Short courses and diplomas in hospitality and food bring a lot of opportunities for students who apply for studying abroad after Fsc. From chefs to housekeeping and from hotel management to food inspection inspectors, the career prospects are unlimited.
Start Your Study in Australia Journey with StudyWise
Are you still confused which courses to study in Australia and need consultation? Get free consultation from our experts. You can apply directly to the top Australian institutes through StudyWise app. See the course detail and fee structure and choose courses that match your profile. Are you confused about course selection? Talk to our consultants to explore your study options.